---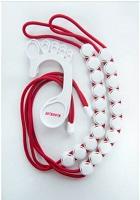 SockDock - 2pcs
---
From "dirty feet" to "clean and neat"
The SockDock® is a simple & easy-to-use sock organising system designed to wash, dry, and store socks so that you never have to pair socks again after washing 
Each SockDock holds nine pairs of socks (18 pairs with a pack of 2)
One for Clean socks - One for Dirty socks or why not have One for each member of the family's dirty socks for laundering
Just three easy steps: 
Hang the SockDock in a cupboard or on a doorknob - Pull on the end of the SockDock with one hand and space out the round buckles with the other hand
Add socks – Add the first pair of socks between the bottom two round buckles. When the SockDock is full detach the "foot hanger" and toss into the washer and tumble dry or hang to dry
Hang clean socks in closet/doorknob or store conventionally and start adding dirty socks again ready for washing day
Sold as Single item or in Pairs
---
This website is Copyright 2018. All Rights Reserved.
The item has been added to your basket