---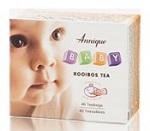 Annique Baby Rooibos Tea - 40 Bags
---
A unique tea for babies suitable for both Bottle fed and Breastfed Babies.
We suggest introducing the tea from six months of age - to use the tea at an earlier age, contact your health adviser. You can also introduce Green Rooibos tea from six months, or you can make a blend of Baby Tea and Green Rooibos Tea
Annique Organic Baby Rooibos tea contains NO caffeine and is LOW in tannin so it won't deplete your baby's natural iron reserves. Because of the low tannin content, the tea is not bitter and no sweetener is needed
Rooibos tea has been a trusted remedy with moms worldwide for over 45 years to help ease

colic, insomnia,

 

food allergies, stomach cramps and eczema

. 

To help soothe eczema and skin irritation add the tea to your baby's bath water 
Rooibos, also called Red Bush tea, contains several natural minerals essential to your baby's development like iron, calcium, copper, potassium, zinc and magnesium. Read more here
How to Prepare Annique Rooibos Baby Tea see Additional Information
Additional Information
How to Prepare Milk Formula with Annique's Baby Rooibos Tea** 
Add 1 liter of boiling water to 2 bags of Baby Rooibos tea in a teapot or saucepan
Simmer for 20 minutes on the hob - keep the brew just under boiling point •Do not do this in the microwave as some of the antioxidants will be destroyed in the heating process
Pour tea into sterilised bottles; replacing ⅔ (two thirds) of the boiling water that you would normally use to prepare the formula
Leave to cool
When it is time to feed baby; add milk formula as prescribed on the tin and use ⅓ boiled water to make up the rest of the bottle
** Baby Rooibos tea on its own does not replace babies formula meals
Baby Rooibos Tea for Breastfed Babies:
Offer approximately 25ml of lukewarm Rooibos Baby tea in between feeds with a sterile syringe or dropper. It is also beneficial for Baby if the nursing mum drinks Rooibos tea. Or add the cold tea to fruit juice for a healthy drink when baby is thirsty.
---
This website is Copyright 2018. All Rights Reserved.
The item has been added to your basket