---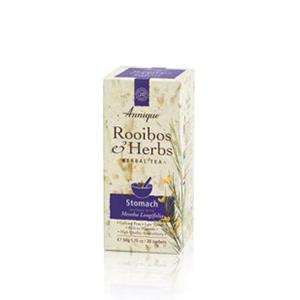 Annique Stomach Tea - 50g
---
Annique's Stomach tea combines Rooibos tea with Mint. It has a mild minty taste and is perfect to finish a meal.
Mint (Mentha longifolia) has antiseptic properties and is beneficial in treating colds, headaches and stomach upsets. Several studies support the use of peppermint as a natural remedy for indigestion and irritable bowel syndrome. Because Rooibos is also helpful for these concerns; you get a double whammy of benefits when you drink Stomach tea. 
Mint can also be used for bronchial infections and fever because the tea increases sweating while simultaneously having a cooling effect internally.
*Children two years and older can drink Stomach tea.
*It is recommended to discuss the use of herbal tea with your health care practitioner when you are Pregnant or Breastfeeding
---
This website is Copyright 2018. All Rights Reserved.
The item has been added to your basket