---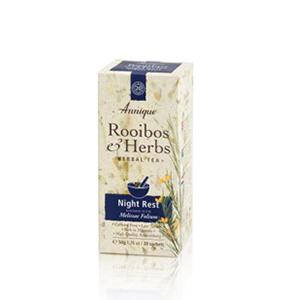 Annique Night Rest Tea - 20 bags
---
Night Rest tea is a natural caffeine free option for insomniacs. Annique has
combined Rooibos with soothing Melissa leaf. Melissae folium has mild sedative and calming properties. Rooibos also promotes healthy sleep so this is a good healthy natural solution if you are struggling to sleep at night.
Children can drink Night Rest tea from about 8 months old.
*It is recommended to discuss the use of Night Rest herbal tea with your health care practitioner when you are Pregnant or Breastfeeding. It is advisable not to drink more than one cup a day if you are pregnant of breastfeeding.
---
This website is Copyright 2018. All Rights Reserved.
The item has been added to your basket