---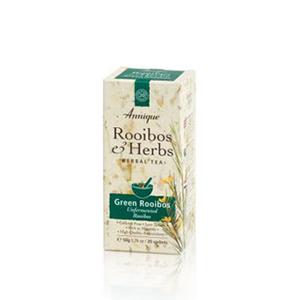 Annique Green Rooibos tea - 20 bags
---
Enjoy the benefits of Green tea without the bitter taste of other green teas.
Because of the low tannin content in Rooibos tea, Annique Green Rooibos tea has a very subtle taste and is almost colourless in appearance.
But don't let the mild taste confuse you. It contains 10 times more antioxidants and 10 times more of the flavonoid aspalathin than normal Rooibos tea. Aspalathin is a remarkable antioxidant specific to the Rooibos plant. Like regular Rooibos / Red bush tea, Green Rooibos tea is naturally caffeine free and is a wonderful anti-ageing treat that is safe for expecting / nursing mums and babies too.
Good news if you are trying to lose weight is that Green Rooibos tea helps to burn fat and if you use it in combination with Ginger Detox tea you have got a great and tasty slimming recipe.
Additional Information
The latest scientific research confirms that Green Rooibos tea has great potential for topical application in skin care to protect against skin cancers too. That is why Annique decided to include it in some of their skin care products so that you can reap the benefits internally and externally.
---
This website is Copyright 2018. All Rights Reserved.
The item has been added to your basket