---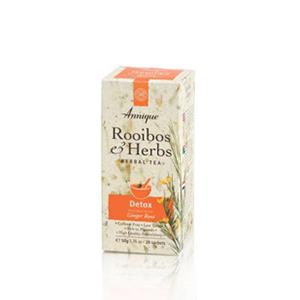 Annique Detox Tea with Ginger - 20 bags
---
Annique Detox tea is a blend of Rooibos and ginger.   
Detox tea is good for circulation and assists the body with the removal of toxic substances which in turn supports the liver. The Tea also improves problem skin because a body free of toxins means clear healthy skin.
Combine Annique Detox tea with Green Rooibos tea and you have a healthy and natural slimming combination.
Combine Detox tea with Annique's Colon Cleanse tea and you have a great natural detox combination.
Take Annique Detox tea with Ginger and Rooibos before and during flights to help reduce motion sickness. Ginger also improves circulation that is a bonus on long flights to help avoid deep vein thrombosis. 
Take one cup Detox Tea 30 minutes before departure, then another cup Detox Tea every three to four hours.
*The tea can be given to children two years and older.
*It is recommended to discuss the use of herbal tea with your health care practitioner when you are Pregnant or Breastfeeding
Additional Information
Norman Fransworth, a researcher in the Pharmaceutical Sciences at the University of Illinois at Chicago advises drinking ginger tea to improve general well being and motion sickness during long haul flights. Dr Fransworth believes ginger reduces motion sickness because it stimulates receptors in the digestive tract that help release the soothing hormone serotonin.
---
This website is Copyright 2018. All Rights Reserved.
The item has been added to your basket