---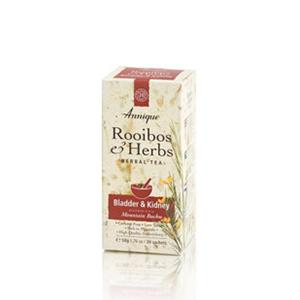 Annique Bladder & Kidney Tea - 20 bags
---
Annique Bladder and Kidney tea is a combination of Rooibos tea and the herb Buchu. 
 Buchu, Agathosma betulina, has a pronounced wholesome aromatic taste and fragrance bringing liquorice to mind. Not only is it a lovely aromatic cup of tea but you get some excellent health benefits too.
Buchu is a well-known diuretic and is a great cup of tea to help get relief from water retention and a bloated feeling. The Tea is often used to help with bloating associated with PMS.
Drinking Annique Bladder and Kidney tea is also beneficial if you suffer from cystitis and flatulence. Because the Tea has such a beneficial action on the urinary tract here is a great tip: for vaginal and/or bladder infections add Bladder and Kidney tea to bath water for relief from burning and itching.
It also stimulates lymph drainage and improves nasal congestion caused by hayfever and sinusitis.
*Bladder and Kidney tea can be given to children from 2 years and older.
*Not suitable for pregnant or breastfeeding women.
Additional Information
The kidneys are important organs which remove waste products from the body, regulate the amount of water in the body as well as regulating the precise chemical balance of the body. It is therefore important to maintain proper kidney function at all times. Bloatedness can be an indication of kidney problems.
---
This website is Copyright 2018. All Rights Reserved.
The item has been added to your basket