---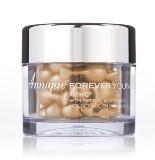 Annique Forever Young RetiniQ - 30 Ampoules
---
End of Line - This Product is no longer available. Replaced by ReturnYouth a new product with plant-based retinol like benefits.
Annique Forever Young RetiniQ is an Amazing Product – Brilliant Benefits - Stunning Results
Use Retiniq ampules for skin repair and rejuvenation and to reduce fine lines and wrinkles and to add radiance to your skin.
Always use an Annique sun block with RetiniQ.
See additional information
Additional Information
When wrinkles start to appear, it can seem like all is lost and that only an epic battle or cosmetic surgery is the answer. However, Annique's RetiniQ capsules will make short work of your ageing woes. Treating the signs of ageing is as simple as opening a RetiniQ capsule containing an advanced stable formula of Retonoic Acid which is the purest and safest form of administering Vitamins A, C and E and Lycopene to your skin. Your skin immediately soaks up the contents so that it can work its way to the cellular level to accelerate cell growth and increase collagen content.
It is great for treating dry skin and sun damaged skin too, because RetiniQ reverses the signs of ageing and UV-damage and it restores skin elasticity and helps boost collagen production in the skin. Results will be visible in no time!
---
This website is Copyright 2018. All Rights Reserved.
The item has been added to your basket