---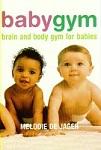 Babygym: Brain and Body Gym for Babies
---
Babygym by Dr Melodie de Jager (2004) is an easy guide that offers parents and caregivers an easy way to enhance a baby's mental, emotional, physical and spiritual well-being.
Babies and children learn and grow by movement through play. By encouraging a baby to move and play using the entire body, spontaneous whole-brain leaning is activated.
South African expert Dr Melodie De Jager applies the same simple yet powerful principles underlying her successful adult books Brain Gym for All and Mind Dynamics to the effective brain and bodily development of babies
This book is not for sale - if you would like to acquire your own copy; please contact us.
The book can be loaned from us for Three Weeks - if you would like to keep it for longer; please contact us to see if it would be possible to extend the loan
Please return the book with a trackable shipping service in the condition that you have received it
If the book is not returned to us or damaged, we reserve the right to charge the full price of the book (£12.99)
If you add the book to your shopping cart you agree to the above conditions
---
This website is Copyright 2018. All Rights Reserved.
The item has been added to your basket