---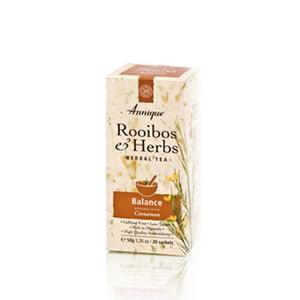 Annique Balance Tea - 20 bags
---
Annique Balance tea is a combination of Rooibos tea and cinnamon. 
The tea has a lovely mild delicious cinnamon taste. It can be helpful in maintaining healthy blood sugar levels by stimulating glucose metabolism which is beneficial to your health. Some sources report that Cinnamon can help to block calorie absorption which can be advantageous if you are trying to lose weight. 
As well as lowering blood sugar levels cinnamon may slow down the emptying of the stomach, meaning it can make you feel fuller for longer. (Daily Mail. 5 May 2011).
The combination of Rooibos and cinnamon can also help to improve circulation and menstrual cramps.
*The Tea can be given to babies two years and older. 
*Please note: It is advisable that Diabetics, those suffering from high cholesterol and pregnant or breastfeeding women should contact their health advisor before using Balance tea. Also consult a doctor and use it with caution if you have a hormone-sensitive condition.
Additional Information
A Scandinavian study published in the American Journal of Clinical Nutrition found that when volunteers were given rice pudding with three grams of cinnamon, they produced less insulin after the meal. Because insulin is the hormone that turns excess sugar into fat, this means less weight gain
---
This website is Copyright 2018. All Rights Reserved.
The item has been added to your basket